Electric Charcoal Starter

This multipurpose fire starter quickly lights your charcoal grill, wood-burning fireplace, campfire and so on. This is the best tool to have when grilling, camping or just enjoying a fire in your backyard.
Charcoal starter -Looftlighter
The Charcoal starter -Looftlighter allows you to easily light your charcoal barbecue, wood burning fireplace, campfire or fire pit in 2-3 minutes. It uses 1300 degree temperature hot air to ignite your wood or charcoal. That's two times the temperature required to ignite wood. The built-in blower then fans the flames to the desired level of fire needed, saving more time for doing what you love. The durable heating element, motor, and switch will last you for thousands of lights.
Classic Heat Deflector

The Heat Deflector adds great flexibility to your Kamado grill. It allows you to bake, roast and smoke with indirect heat. Our Heat Deflector circulates the heat around your food to cook it slowly, which keeps it incredibly moist and tender. The Heat Deflector frame can also be used by itself to raise the cooking grate. It reduces the potential of charring tender foods like seafood and vegetables.
Versatile Elevator

The metal stand has a two-position setting for the ceramic plates, can be used together with the 2x half ceramic plates to offers simultaneous direct and indirect cooking. And also can be used separately to raise the cooking grate and reduce the charring of tender foods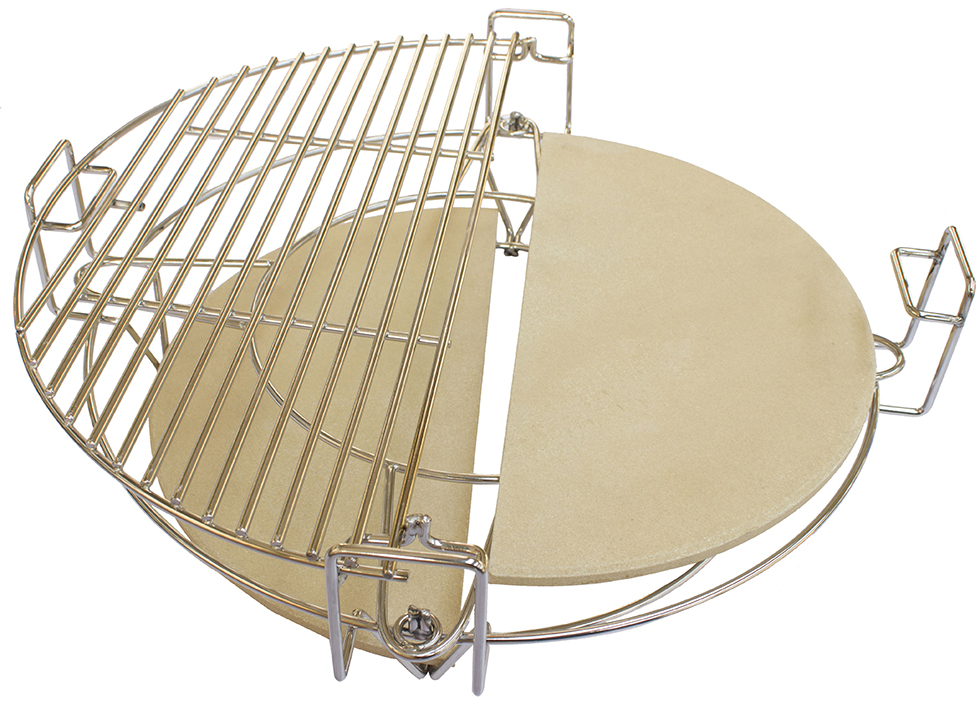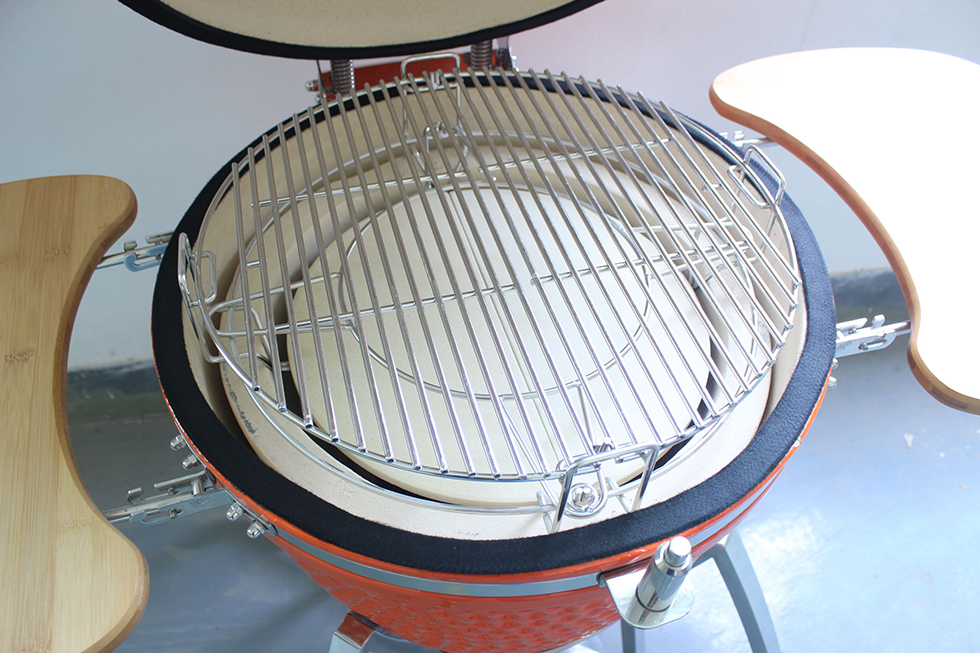 Roast nets Clip
It securely clamps onto any cooking grate. Avoid the mess and potential burn hazard of moving or repositioning your cooking grate.
Chicken Stand

The Chicken Stand allows you to make incredibly tender chicken on all outdoor grills and indoor ovens. Make "beer can chicken" or add your favorite marinade to the Chicken Stand. The Chicken Stand is all ceramic and dishwasher safe for easy clean up and years of use.
Rain Cover

Our Premium Grill Covers are made of durable vinyl for all-weather protection. Custom fit and available in black.
Charcoal Plate
Efficiently clean your firebox after your kamado-cook.This durable stainless steel accessory allows you to quickly separate leftover charcoal from the ashes and be ready for your next cook in seconds. Additionally, the Charcoal Basket will provide better airflow by filtering out the small particles of charcoal, resulting in a cleaner burn.
Kamado Rotisserie

Revolutionize your charcoal grilling experience and transform your Kamado Joe into a rotisserie-style grill with the Joetisserie attachment. Constructed from durable, stainless steel, the spit rods and forks allow for pristine balance and steady rotation of up to 50-pounds of beef, pork or chicken resulting in meats that are smoky, juicy, and tender . The quiet, yet powerful, motor provides a steady circulation for flawless food.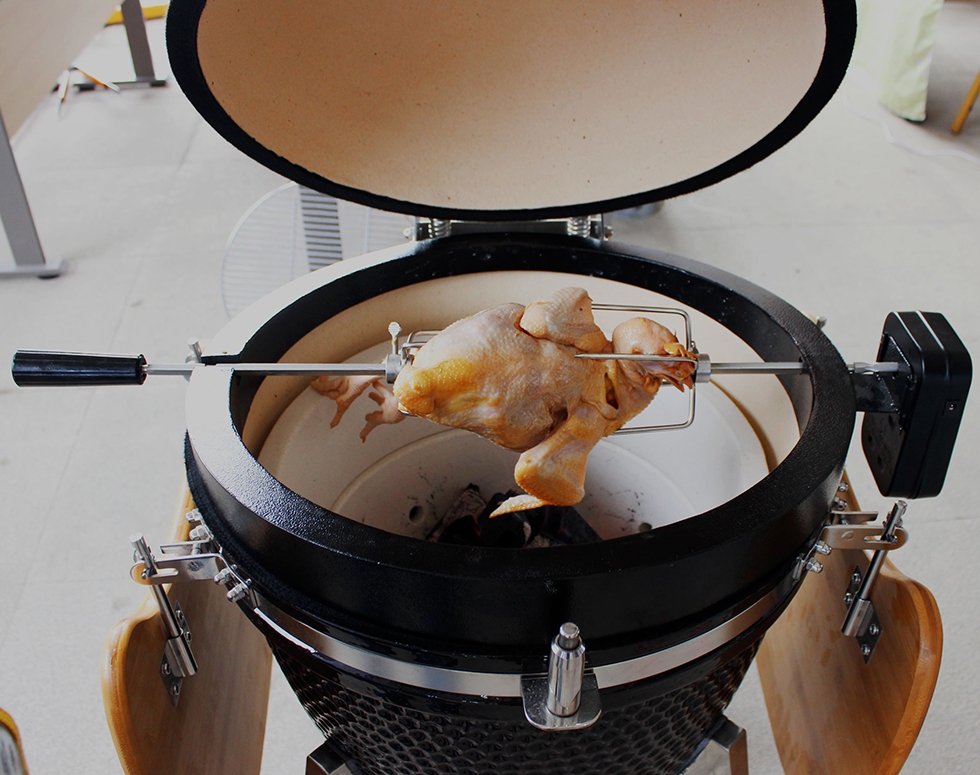 Pizza Shovel
The Pizza Shovel is the perfect lightweight serving tool for any delicious kamado-style pizza. With a wooden flat edge designed to slip underneath the pizza crust, ensure a quick-and-easy plating process from your grill.
Cast Iron cooking grid

The Cast Iron cooking grid is a staple for any kamado-filled feast. Perfect for all cuts of meat, the hearty Cast Iron cooking grids are made for searing while sealing in the flavor. With excellent heat retention and long-lasting durability, the Cast Iron cooking grid will be the MVP for any backyard spread.
Ceramic Feet

If your Kamado grill is going on/over a wood surface or in a built-in application, the grill must be placed on these ceramic feet. The feet elevate the Kamado grill, allowing air movement directly under the grill. Air movement helps dissipate the heat.
Divide & Conquer Cooking System

Divide & Conquer Cooking System is a combination of half pizza stone and half cooking grid,and you can adjust the locations,so there will be many combinations.It replaces the ordinary grill grate. The key is the "Half Rack Design," the halving of all components to allow for multi-level flexibility and multi-surface versatility. 
Elevator

Elevator is used for elevating the height of food,it can be used with heat deflector,cooking grid,or pizza stone.So you will have different flavors.
Pizza Stone

Pizza Stone is used to make pizza,and the flavour is better than the normal pizza oven.It's one of the most hot selling accessories.
Chicken Cooking Rack

Chicken Cooking Rack,as the name and picture shows,you can hang the chicken or other kind of meat in the stick,and grilling in the grill,juicy and tasteful.
BBQ Rib Rack

Optimize your grill space with the Stainless Steel Rib Rack. This durable, high-quality stainless steel rack will ensure a precise cook by allowing large quantities of ribs to cook evenly. Additionally, the rack can even accommodate chicken legs, pork chops, and more. 
Roasted Peppers Frame

Roasted Peppers Frame is designed for pepper,but you can also put the sausage,hot dog,or other vegetables in it.
Chicken sitter

Chicken sitter,as the name says,chicken is "sitting"on the accessory.So the chicken will be roasted evenly.
Cooking Grid Expander

Sitting directly atop the grill grate with a generous four-inch clearance, this dishwasher-safe accessory expands the cooking surface of your grill by up to 60 percent. Mix and match different surfaces to suit any need and style.
Charcoal Chimney Starter

1、The easiest, quickest & cleanest way to light charcoal for your barbecue.
2、No more waiting around for it to slowly heat. No need for lighter fluid or fire lighters.
3、 Superior air circulation for evenly burning charcoal that guarantees evenly cooked food.
4、 Side holes ensure that air circulates through all the charcoal for even burning.
---
Post time: Nov-28-2022